2021 Honda CR-V vs Toyota RAV4
7/7/2021

Pickups aside, the Toyota RAV4 and Honda CR-V are the two top-selling vehicles in the U.S. And they're both offered in high-mpg hybrid versions.
How'd they fare against each other is something to look out for! Let's compare some of their specs and take a look at which car will have the upper hand in this hotly anticipated rivalry of compact crossovers in 2021!
Engine and Performance
The 2021 Honda CR-V comes equipped with a standard 1.5L turbocharged Inline-4 engine generating a power output of 190 hp and a torque generation of 179 lb-ft mated to a 2-speed continuously variable transmission (CVT) automatic transmission unit, which is surprisingly not that loathsome as the other CVTs.
The 2020 CR-V offers you the choice of both FWD and AWD drivetrains, and it continues for the 2021 model year as well. Unfortunately, the 2021 Toyota RAV4 does not offer a turbocharged engine. It's powered by a 2.5L Naturally Aspirated Inline-4 engine with a power output of 203 hp, and torque output of 184 lb-ft mated to an 8-speed automatic transmission. The 2021 RAV4 also offers both AWD and FWD to choose from, with the standard option being of FWD.
Keeping both these crossovers on a balancing machine, we can conclude that the Toyota RAV4 comes out as a better investment for revheads. Despite having equipped with a turbocharged engine, the Honda CR-V lacks in terms of its performance, especially when compared to Toyota's naturally-aspirated engine. Toyota's 8-speed transmission fuels its engine with optimum power and provides you with a better but loud driving experience. However, if you want a smooth and relaxing driving experience, then move your cart to the Honda CR-V. Its CVT transmission helps you drive the car with ease, be it on the road or the highway.
RAV4 and CR-V features
The Honda CR-V takes the cake for cargo space. While both options have above-average cargo space for the class, the Honda CR-V offers more. With the CR-V, there are 39.2 cubic feet of cargo space behind the second row with up to 75.8 cubic feet total. In the RAV4, there are 37.6 cubic feet of cargo space behind the second row with up to 69.8 cubic feet total.
Also, the 2021 CR-V is noted for being more comfortable than the RAV4. The seats are more supportive, and the CR-V offers more leg space for backseat passengers.
Plus, the CR-V is praised for having a more upscale interior quality. It has soft-touch materials on most surfaces, while the RAV4 has hard plastics.
Each trim level was considered. Both options start with cloth upholstery, but the CR-V can be up-fitted to leather upholstery while the RAV4 only offers synthetic leather upholstery. Both SUVs include heated seats and tons of comfort-enhancing amenities too.
The 2021 Toyota RAV4 is an IIHS top safety pick, but the Honda CR-V hasn't been tested yet. Both vehicles feature forward collision warning, automatic emergency braking, adaptive cruise control, and more. But at the end of the day, the Honda CR-V checks more boxes than the RAV4.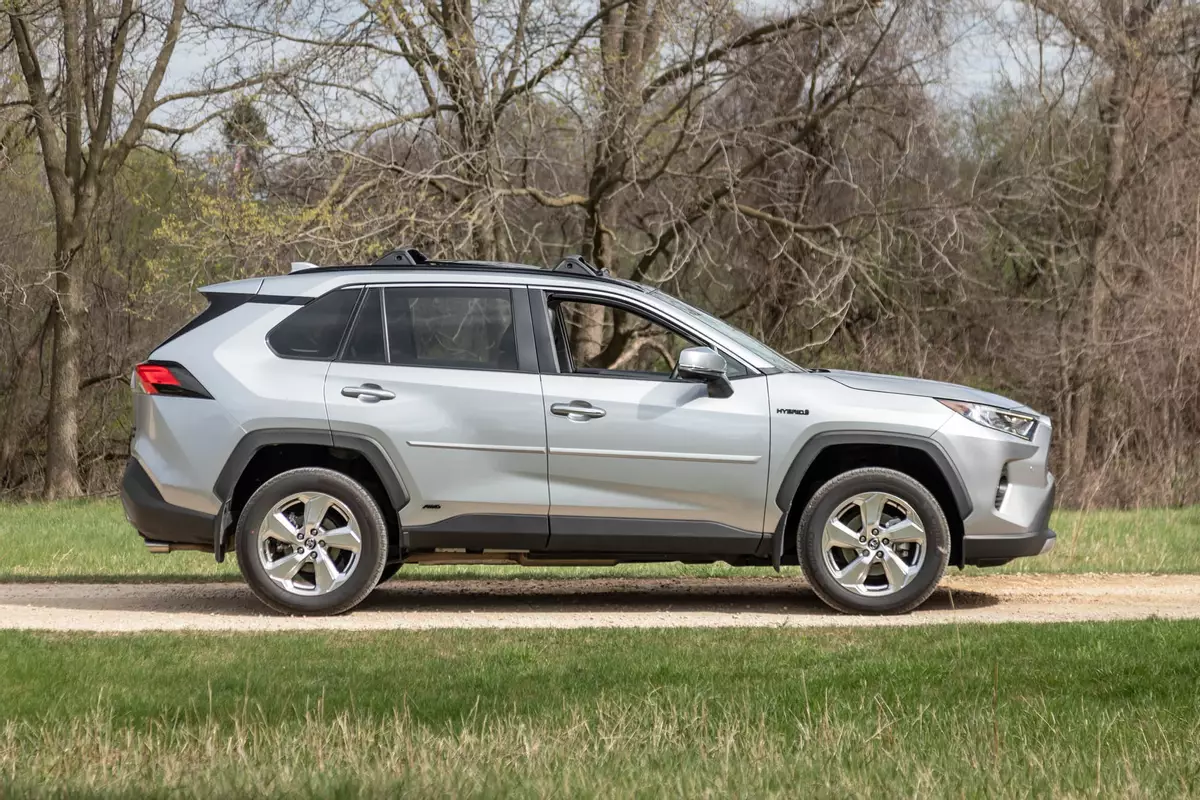 Overall Winner: Toyota RAV4 Hybrid
While we enjoyed the CR-V Hybrid's comfortable ride, roomy cabin and value proposition, we determined in the end that the RAV4 Hybrid is the better vehicle. Perhaps more important, based on the scores in the categories most important to hybrid shoppers — fuel efficiency, acceleration and braking — we determined it's demonstrably the better hybrid.
New & Used Car Dealerships:

6922 8th Ave, Brooklyn, NY 11228
6215 18th Ave, Brooklyn, NY 11204
2008 College Point Blvd., College Point, NY 11356
78-14 Woodside Ave, Elmhurst, NY 11373
43-18 Main St, Flushing, NY 11355
 Pre-owned Dealership
196-33 Northern Blvd., Flushing, NY 11358 
Service & Collision Centers
126-19 20th Ave, College Point, NY 11356
129 34th St, Brooklyn, NY 11232
Specialty: Huge standard and luxury used car inventories
Ideal Auto is consistently respected by customers who love quality used vehicles, primarily because of their prompt and informative customer service. Ideal Auto sports a wide selection of used and certified pre-owned vehicles with complimentary warranties. As one of the larger brokerage in New York, Ideal Auto is sure to have a vehicle that appeals to you.